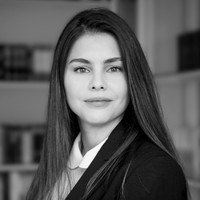 Estefanía Ponce is a Senior Associate at Posse Herrera Ruiz's dispute resolution practice group. She focuses her practice on arbitration and arbitration-related litigation. She is admitted to the practice of law in Colombia, she is a member of the New York State Bar and she has been admitted to the Paris Bar.
Estefanía has ample experience in commercial and investment arbitrations under the ICC, UNCITRAL, ICSID, ICDR, Swiss and Bogotá Chamber of Commerce Rules, representing States, state entities, companies and foreign investors regarding port services, transport, oil & gas, mining, energy, and post M&A operations, among others, and in litigations involving matters of sovereign immunity and the recognition of foreign awards and judgments.
She has sat as an officer of the IBA Public Law Committee, as a regional representative of the YIAG, and she is currently co-chair of the CLA-40 and Director of the Arbitration Chapter at Colombia's Centre of Studies on Procedural Law.
Before joining Posse Herrera Ruiz, she worked at the Paris office of Cleary Gottlieb Steen & Hamilton and in Zuleta Abogados in Bogotá. She has been adjunct professor at Universidad de Los Andes of courses on International Dispute Resolution and Public International Law.