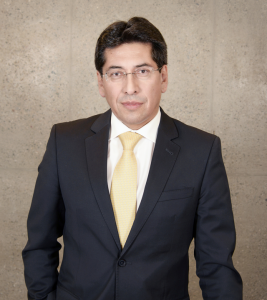 Lawyer, graduated from Universidad Anáhuac (Mexico City – Mexico) and Universidad Mayor de San Andrés (La Paz – Bolivia). Bachelor of Laws, graduated Summa Cum Laude. He has a specialization in International Law and International Relations from the Matías Romero Institute (Mexico City – Mexico).
Between 1994-1997 he served as Sub-Secretary of Justice of the Ministry of Justice of the Republic of Bolivia. From 2008-2012 he was the President of the Illustrious Bar Association of La Paz. Associate Judge of the Supreme Court of Justice in 2008 and 2009 and Associate Judge of the Superior Court of Justice of the District of La Paz from 2002 to 2008.
He currently serves as President of the Bolivian Arbitration Association. He has successfully participated as a lawyer in more than one hundred and fifty complex disputes in both national and international arbitration, judicial and administrative proceedings. He is an Arbitrator of the Conciliation and Arbitration Centers of the National Chamber of Commerce (La Paz), of the Chamber of Industry, Commerce, Services and Tourism of Santa Cruz (CAINCO), of the Conciliation and Arbitration Center of the La Paz Bar Association and the Arbitration Center of the Bolivian Chamber of Hydrocarbons and Energy (CBHE).