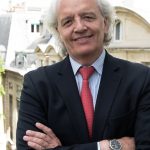 Is a professor at Sciences Po Law School in Paris. He teaches subjects related to international dispute resolution, arbitration, conflict of laws, comparative law, and global governance, and he is the director of the LLM in Transnational Arbitration & Dispute Settlement and co-director of Global Governance Studies. Professor Fernández Arroyo is a member of the Curatorium of the Hague Academy of International Law, an Associate of the Institut de droit international, a former President of the American Association of Private International Law (ASADIP), and the current Secretary-General of the International Academy of Comparative Law. He has been invited in a number of Universities of Europe, the Americas, Asia and Australia and he has been a Global Professor of NYU. Professor Fernández Arroyo is a member of the Argentinean Delegation before UNCITRAL (Working Group on Arbitration) since 2002. Professor Fernández Arroyo is actively involved in the practice of international arbitration as an independent arbitrator and an expert. He has been appointed Chairman, Sole Arbitrator or member of the tribunal in a number of cases, ad hoc and institutional (ICSID, ICC, Milano Chamber). He is a member of the ICSID panels of arbitrators and conciliators appointed by Argentina. He has developed several projects in the field of arbitration and international business law for international organisations, and has published a number of books and articles in more than 20 countries, including:
Books:
Contratos internacionales (with J.A. Moreno Rodríguez, eds.), Washington, OAS/ASADIP (2016)
Private International Law in Spain (with M. Checa Martínez and P. Maestre Casas), Alphen aan den Rijn, Wolters Kluwer (2016)
Private international law and global governance (with H. Muir Watt, eds.), Oxford, Oxford University Press (2014)
Codification du droit privé et évolution du droit de l'arbitrage (with B. Fauvarque-Cosson and J. Monéger, eds.), Paris, Société de législation comparé (2014)
Cuestiones claves del arbitraje internacional (with E. Gaillard, eds.), Bogotá, UR / CEDEP (2013)
Contratos y arbitraje en la era global / Contrats et arbitrage à l'ére globale (with J.C. Rivera, eds.), Asunción, AADC / CEDEP (2012)
Articles and book chapters:
"Legitimacy of international arbitration: commercial v. investment", in A. Bjorklund / F. Ferrari / S. Kröll (eds.), Cambridge Compendium of International Commercial and Investment Arbitration, Cambridge, Cambridge University Press (forthcoming)
"Public and Private International Law in International Courts and Tribunals – Evidences of an Inescapable Interaction" (with M.M. Mbengue), Columbia Journal of Transnational Law (forthcoming)
"The curious case of an arbitration with two annulments courts: comments on the YPF saga", Arbitration International 33-2 (2017) 317-344
"Argentina: The Changing Character of Foreign Law in Argentinian Legal System" (with P.M. All), in Y. Nishitani (ed.), Treatment of Foreign Law – Dynamics towards Convergence, Cham, Springer (2017) 452-472
"Arbitrators' Procedural Powers: The Last Frontier of Party Autonomy?", in F. Ferrari (ed.), Limits to Party Autonomy in International Commercial Arbitration, Huntington (NY), NYU/Juris (2016) 199-231
"The growing significance of set of principles to govern trans-boundary private relationships", in Eppur si muove: The Age of Uniform Law. Essays in honour of Michael Joachim Bonell to celebrate his 70th birthday, vol. 1, Rome, UNIDROIT (2016) 251-272
"The new Argentinian arbitration law: a train in an unknown direction?" (with E.H. Vetulli), Arbitration International 32 (2016) 349-372
"Argentine – Chronique de jurisprudence de droit international privé", Journal de droit international 143 (2016) 951-982
"The Legitimacy and Public Accountability of Global Litigation – The Particular Case of Transnational Arbitration", in H.-W. Micklitz / A. Wechsler (eds.), The Transformation of Enforcement, Londres / Portland, Hart (2016) 355-373.
"The New Private International Law of the Argentinian Republic within the Context of Global Conflict Developments", RabelsZ 80 (2016) 130-150
"Transparencia en el arbitraje de inversiones", in Tanzi / A. Asteriti / R. Polanco Lazo / P. Turrini (eds.), International Investment Law in Latin America: Problems and Prospects, Brill / Nijhoff, Leiden / Boston (2016) 244-271
"A New Autonomous Dimension for the Argentinian Private International Law", Yearbook of Private International Law XVI (2014/2015) 217-231
"La tendance à la limitation de la compétence judiciaire à l'épreuve du droit d'accès à la justice", in Mélanges Bernard Audit, Paris, LGDJ (2014) 285-306
"The Limits to the Parties' Free Choice of Jurisdiction – Formal and Territorial Requirements for the Efficacy of Choice-of-Court Agreements", in Jurisdictional Choices in Times of Trouble, Paris, ICC (2014) 66-78
Introducción al Título IV y Artículos 2601 a 2612 y 2650 a 2655, in J.C. Rivera / G. Medina (eds.), Código Civil y Comercial Comentado, Buenos Aires, La Ley (2014) (Director of the commentaries to the articles contained in the chapter on Private International Law)
"New trends in international commercial arbitration in Latin America", in G. Cordero Moss (ed.), International Commercial Arbitration: Different Forms and their Features, Cambridge, Cambridge University Press (2013) 398-426
"Introducción" (with E. Gaillard) and "Los precedentes y la formación de una jurisprudencia arbitral" in E. Gaillard / D.P. Fernández Arroyo (eds.), Cuestiones claves del arbitraje internacional, Bogotá, UR / CEDEP (2013) 1-9, 225-262.