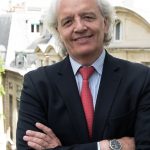 Es Profesor de la Escuela de Derecho de Sciences Po (París), donde enseña temas relacionados con la resolución internacional de controversias, el arbitraje, el derecho internacional privado, el derecho comparado y la gobernanza global, dirige el LLM in Transnational Arbitration & Dispute Settlement y codirige el programa Global Governance Studies. Fernández Arroyo es miembro del Curatorium de la Academia de Derecho Internacional de La Haya, Asociado del Institut de droit internacional y Secretario General de la Academia Internacional de Derecho Comparado y ha sido Presidente de la Asociación Americana de Derecho Internacional Privado (ASADIP). Fernández Arroyo es regularmente invitado a enseñar en numerosas universidades de Europa, las Américas, Asia y Australia y ha sido Global Professor de la Universidad de Nueva York. Es además miembro de la Delegación argentina en UNCITRAL (Grupo de Trabajo de Arbitraje) desde 2002. Fernández Arroyo participa activamente de la práctica arbitral como árbitro y como experto, ha sido nombrado Presidente, Árbitro Único y miembro del tribunal en numerosos casos, ad hoc e institucionales (CIADI, CCI, Cámara de Milán), y es miembro de las listas de árbitros y conciliadores del CIADI nombrado por la República Argentina. Fernández Arroyo ha desarrollado varios proyectos para organizaciones internacionales en el campo del arbitraje y el derecho de los negocios internacionales, y ha publicado numerosos libros y artículos en más de 20 países, entre los más recientes:
Libros:
Contratos internacionales (con J. Moreno Rodríguez, dirs.), Washington DC, OEA, 2016, ISBN: 978-958-738-328-7
Private International Law in Spain (con M. Checa Martínez y P. Maestre Casas), Alphen aan den Rijn, Wolters Kluwer, 2016, ISBN: 978-90-411-8269-2
Private International Law and Global Governance (con H. Muir Watt, dirs.), Oxford, Oxford University Press, 2014, ISBN: 978-0-19-872762-0
Codification du droit privé et évolution du droit de l'arbitrage (con B. Fauvarque-Cosson y Joël Monéger, dirs.), Paris, Société de législation comparée, 2014, ISBN: 978-2-36517-027-7
Cuestiones claves del arbitraje internacional (con E. Gaillard, dirs.), Bogotá / Asunción, UR / CEDEP, 2013, ISBN: 978-958-738-328-7
Contratos y arbitraje en la era global / Contrats et arbitrage à l'ère globale (con J.C. Rivera, dirs.), Asunción, Asociación Argentina de Derecho Comparado / CEDEP, 2012, ISBN: 978-99967-657-3-5
Artículos y capítulos de libros:
"Legitimacy of international arbitration: comercial v. investment", in A. Bjorklund / F. Ferrari / S. Kröll (eds.), Cambridge Compendium of International Commercial and Investment Arbitration, Cambridge, Cambridge University Press (en prensa)
"Public and Private International Law in International Courts and Tribunals – Evidences of an Inescapable Interaction" (con M.M. Mbengue), Columbia Journal of Transnational Law (Estados Unidos) (en prensa)
"The curious case of an arbitration with two annulments courts: comments on the YPF saga", Arbitration International (Reino Unido), vol. 33-2, 2017, pp. 317-344 (10.1093/arbint/aix009)
"Argentina: The Changing Character of Foreign Law in Argentinian Legal System" (con P.M. All), in Y. Nishitani (dir.), Treatment of Foreign Law – Dynamics towards Convergence, Cham, Springer, 2017, pp. 452-472
"Arbitrators' Procedural Powers: The Last Frontier to Party Autonomy?", in F. Ferrari (dir.), Limits to Party Autonomy in International Commercial Arbitration, Huntington (NY), NYU/Juris, 2016, pp. 219-231
"The growing significance of set of principles to govern trans-boundary private relationships", in Eppur si muove: The Age of Uniform Law. Essays in honour of Michael Joachim Bonell to celebrate his 70th birthday, vol. 1, Rome, UNIDROIT, 2016, pp. 251-272
"The new Argentinian arbitration law: a train in an unknown direction?" (con E.H. Vetulli), Arbitration International (Reino Unido), vol. 32, 2016, pp. 349-372
"Argentine – Chronique de jurisprudence de droit international privé", Journal de droit international (Francia), vol. 143, 2016, pp. 951-982
"The Legitimacy and Public Accountability of Global Litigation – The Particular Case of Transnational Arbitration", in H.-W. Micklitz / A. Wechsler (dirs.), The Transformation of Enforcement, Londres / Portland, Hart, 2016, 355-373
"The New Private International Law of the Argentinian Republic within the Context of Global Conflict Developments", RabelsZ (Alemania), vol. 80, 2016, pp. 130-150
"Transparencia en el arbitraje de inversiones", in Tanzi / A. Asteriti / R. Polanco Lazo / P. Turrini (dirs.), International Investment Law in Latin America: Problems and Prospects, Brill / Nijhoff, Leiden / Boston, 2016, pp. 244-271
"A New Autonomous Dimension for the Argentinian Private International Law", Yearbook of Private International Law (Suiza), vol. XVI, 2014/2015, pp. 217-231
"La tendance à la limitation de la compétence judiciaire à l'épreuve du droit d'accès à la justice", in Mélanges Bernard Audit, Paris, LGDJ, 2014, pp. 285-306
"The Limits to the Parties' Free Choice of Jurisdiction – Formal and Territorial Requirements for the Efficacy of Choice-of-Court Agreements", in Jurisdictional Choices in Times of Trouble, Paris, CCI, 2014, pp. 66-78
Introducción al Título IV y Artículos 2601 a 2612 y 2650 a 2655, in J.C. Rivera / G. Medina (dirs.), Código Civil y Comercial Comentado, Buenos Aires, La Ley, 2014 (Director de los comentarios a los artículos contenidos en el Capítulo sobre derecho internacional privado)
"New trends in international commercial arbitration in Latin America", in G. Cordero Moss (dir.), International Commercial Arbitration: Different Forms and their Features, Cambridge, Cambridge University Press, 2013, pp. 398-426
"Introducción" (con E. Gaillard) y "Los precedentes y la formación de una jurisprudencia arbitral" in E. Gaillard / D.P. Fernández Arroyo (dirs.), Cuestiones claves del arbitraje internacional, Bogotá, UR / CEDEP, 2013, pp. 1-9, 225-262.